Signing up as a supplier / manufacturer will get you new business opportunities from millions of buyers and importers of Auto Industry. By Signing up as a supplier, you will be able to show your contact information to buyers and receive business inquiries from auto parts buyers and importers. By registering an account on WorldAutoSource.com you can create and manage attractive product catalog and company profile. You will also get a private inbox to to communicate with product buyers after registration. Basic registration is free for both buyers and suppliers.
Step 1
Visit WorldAutoSource.com and click on the 'Join Free' link on the top of the web page. By clicking it, a new window will appear on the same page. You can also signup with us by clicking on the big red button with a "Register With Us" label on the right side of the home page.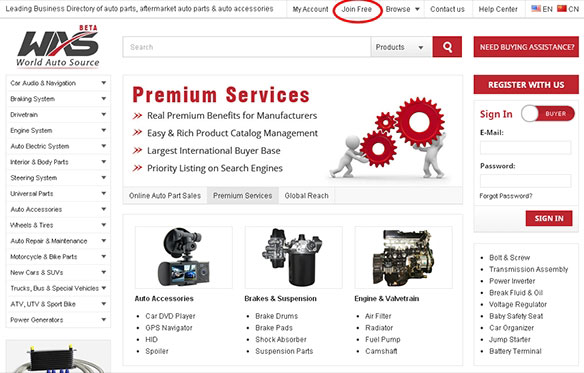 Step 2
On the pop-up window, click on the type of registration you like. By signing up as a Supplier you will be able to receive buyer inquiries, manage an inbox, create a product catalog and a attractive company profile.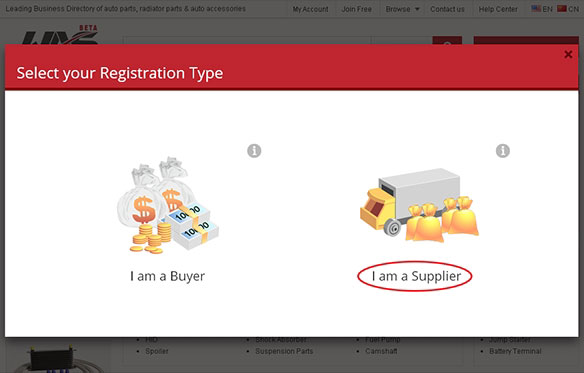 Step 3
One this screen in the pop-up window, you have to enter some basic information about you & your business. This will help us in identifying you and your business needs. Only your first name, your desired user name, valid email address and a password is required on this screen. Other information like your last name, phone, mobile / cell number is optional for registration. Note: You will need your user name and password to login as a supplier.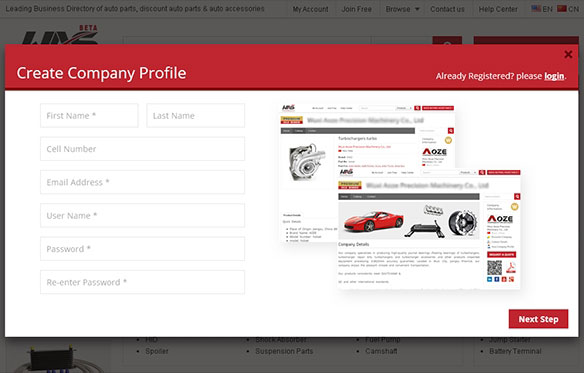 Step 4
On this screen you should select your business type. You just have to click on a option and press on the Next Button.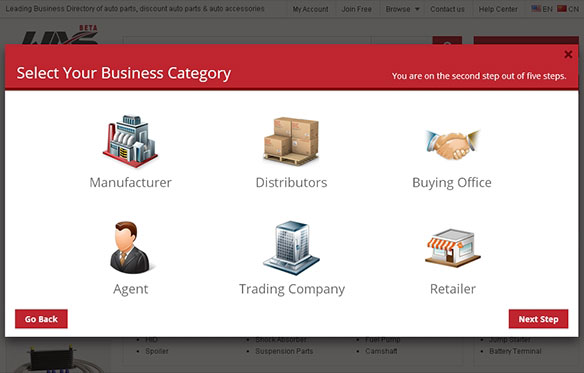 Step 5
On this step, you must add your full company name and other details. You can list your main product / areas of business, a brief intro of your company and your business website's address. You can tell us more about your business like since when you are doing automotive business, etc... share your company's facebook / twitter / G+ page and your IM logins. Adding this optional information will help buyers in selecting best suppliers for their desired products.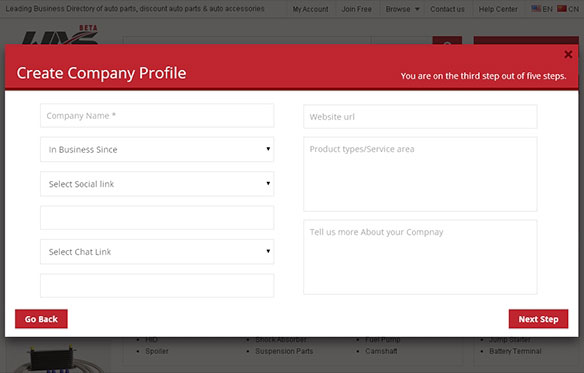 Step 6
Select the best option to let people know how 'BIG' is your company and click next.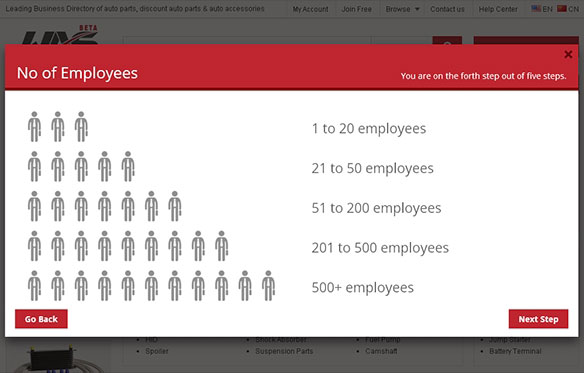 Step 7
This is the last step to complete the supplier registration. You have to add your company's phone, postal address, city and country. Other information is optional.
To signup you must agree to our Terms of Use to sign up as a member of World Auto Source.com