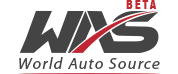 Welcome to World Auto Source
WorldAutoSource.com is the world's leading and fastest growing online business-to-business (B2B) Automotive marketplace that connects Importers and Exporters from Auto Industry across the globe.
WorldAutoSource.com helps Automotive Businesses to convert into global enterprises. World Auto Source provides them state of the art online B2B platform by which they can market their high quality Aftermarket / OEM Parts and Auto Accessories Internationally. On World Auto Source you will find Genuine International Buyers and explore regional & international business opportunities in Auto Industry.
Special Offer!
World Auto Source offers you a Trial Version of our Premium Membership.
Get 3 Fresh Buyers on paying Just $50.
This is a limited time promotion so be quick and try our services
How to use World Auto Source
Go to www.worldautosource.com and login on the right side of home page. If you are a Buyer / Supplier, select the option on the right and Login. You can signup for a free account by clicking on the Join Free link on top of the page.
Manage Company Profile
Once you are logged-in to the website, you can manage company details, reply or generate queries, create a free product e-catalog, import e-catalogs, just like your company's mini website. You don't have to worry about SEO, our system will automatically optimize for you resulting in numerous genuine inquiries.
Create Product Catalog
You can add your company's profile, upload products to your e-catalog, manage product categories, upload product images & add business license / certificates. You can also add your complete address and contact details to let the system generate a pin on Google Maps & Contact QR Code (digital business card) for you / your customers. You can add Product Name, Description, Brand, Model No. / OEM number and other details on your product catalog.
If you find any problem using World Auto Source, please contact us on
Skype: worldautosource
Email: support@worldautosource.com
Login now & Add Your Company on our Premium Member Directory:


Thanks,
worldautosource.com
Sales & Service Team
sales@worldautosource.com

Forgot your password? Retrieve it now.

You are receiving this email because you are a registered member of worldautosource.com
To unsubscribe please email us at
support@worldautosource.com | Skype : worldautosource
<span style="font-size:7.5pt;line-height:130%; align=" center"="">
Please read our Privacy Policy and Terms of Use
World Auto Source Asia Limited,
1812 N Columbia Blvd, Suite C15-544538, Portland, Oregon, 97217, USA